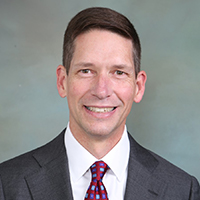 Ian G. Corey
Attorney, of Counsel
EDUCATION
The Judge Advocate General's School, LL.M.
U.S. Army War College, M.A.
George Mason University School of Law, J.D.
Georgetown University School of Foreign Service, B.S.
OFFICE: San Diego
703.731.3425 (mobile)
Mr. Corey retired from the U.S. Army JAG Corps in 2018 after a distinguished 30-year career. With a decade of general and deputy general counsel experience, his final assignment was as General Counsel for U.S. Army Cyber Command, a 19,000-employee organization responsible for offensive and defensive cyberspace operations, and operating and securing Army information networks. In that capacity, he led an office of military and civilian attorneys providing comprehensive legal support including cyberlaw, national security law, intelligence law, fiscal law, contract and federal acquisition law, administrative law, civilian employment and labor law, ethics and standards of conduct, and government information practices (FOIA and Privacy Act). Mr. Corey enabled his Army Cyber Command clients to successfully conduct their operations within a strict legal and policy framework by leveraging applicable authorities while simultaneously identifying and helping to mitigate risk.
Accomplished in the forward delivery of legal services and leading complex projects, Mr. Corey gained valuable operational experience through six overseas deployments, including leading the legal office supporting the international coalition to defeat the ISIS terrorist organization. He contributes significantly to his clients' success and efficiency by delivering operationalized legal support, an especially critical skill for managing the response to cyberattacks.
Mr. Corey is an advisor to the Cyber Resilience Institute, which seeks to improve cyber resilience in communities and organizations here and abroad. He has also helped train students in cyber threat exchange through an interdisciplinary cyber operations course (c-Watch). In this role, he helped students, who were developing skills in cyber threat analysis, to understand the public-private intersection regarding cyberthreat intelligence sharing.
Mr. Corey has served as a trusted advisor to increasingly senior military leaders, including the Chairman of the Joint Chiefs of Staff. He has significant compliance experience, educating and coaching clients on legal, regulatory, and policy requirements, and guiding them through consequence management as necessary. Mr. Corey has also managed dozens of complex and sensitive investigations, coordinating with law enforcement, auditors, human resources, and public affairs as necessary. Moreover, he has worked closely with members of the interagency to solve complex matters; drafted and reviewed numerous international, inter-, and intra-agency agreements; helped shape and advocate for legislative proposals of interest to his clients; and advised clients on a variety of public-private partnerships.
Admissions/Certifications
United States Supreme Court
United States Fourth Circuit Court of Appeals Virginia
Professional Activities
American Bar Association
Armed Forces Communications and Electronics Association (AFCEA)
National Defense Industrial Association (NDIA)
San Diego Military Advisory Council (SDMAC)
Publications and Speaking Engagements
Co-author, Follow the Money: Targeting Enemy War-Sustaining Activities, Joint Force Quarterly 31 (2017)
Citizens in the Crosshairs: Ready, Aim, Hold Your Fire?, U.S. Army War College, 2012
The Fine Line Between Policy and Custom: Prosecutor v. Tadić and the Customary International Law of Internal Armed Conflict, 166 Military Law Review 145 (2000)
Mr. Corey has spoken to numerous audiences, both civilian and military, on a variety of cyberlaw, international law, and national security law topics.